BUILDING THE FUTURE. RESTORING THE PAST.
"

My experience with Gemstone Builders was really good from beginning to end. They listened to what I wanted and worked with me throughout the whole process. My shopping center looks beautiful and since I remodeled, I was able to rent most of my units.
Sarah Kreisberg, University Palms in Lauderhill, FL
Holding ourselves to high standards, we don't just get the job done, we make sure to excel.
Gemstone Builders LLC is a Fort Lauderdale based, full-service, board- certified contractor serving the public and private sectors. We oversee projects from small interior renovations to building full shopping centers.
Our high levels of craftsmanship, dedication, and experience are brought to each project. With experience, we have learned that integrity, attention to detail, and honesty makes for the best working environment. We guarantee prompt and professional service, with diligence every step of the way- and noticeably polished results.
 MORE ABOUT US 
PROJECTS THAT MAKE US PROUD
We are ready to serve you with every step of a remodeling or construction project, while we aim to meet and satisfy all budgets. Please click our projects to see what we can do!
SERVICES WE OFFER
Our Areas of Expertise
"It is with great pleasure and confidence that I recommend Gemstone Builders, Inc. Gemstone worked as the General Contractor on several of our large-scale residential communities. Gemstone completed, on a timely fashion, several capital improvement projects… Since the completion of these projects, we have noticed a sharp increase in rental rates and sales prices, which is a testament to the quality work provided by Gemstone."
"Throughout the course of the renovation, all employees were consummate professionals. They were accurate in the initial assessment of the scale and cost of our project."
"Mr. Bilia was absolutely clear in his record keeping and explanations on necessary improvements. They chose and managed the sub-contractors well."
"Mr. Bilia was absolutely clear in his record keeping and explanations on necessary improvements. They chose and managed the sub-contractors well."
"Gemstone's in-depth knowledge and experience with construction and managing complex projects were instrumental in successful completion of the work on our properties. I enjoyed working with Mr. Moti Bilia and the rest of the staff at Gemstone. From the beginning it was clear that the value attention to detail, are committed to teamwork and can clearly communicate and resolve problems as they happen."
"I can tell you from experience, if Gemstone and Mr. Bilia take a job, they will be there to the very end. Their communication and attention to detail is exceptional."
"I rarely write recommendation letters because I do not feel comfortable tying my firm and or my name to someone else's work. However, Gemstone has proven to be a trustworthy organization, to whom I recommend to all my properties and Property Managers. I look forward to working with Gemstone in the future, and would not hesitate to recommend Gemstone Builders, Inc. to others seeking similar services."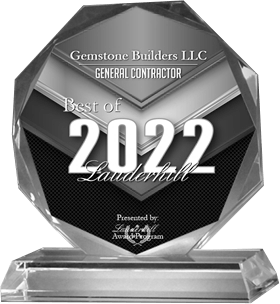 Gemstone Builders LLC has been selected as the Winner for the 2022 Best of Lauderhill Awards in the category of General Contractor.